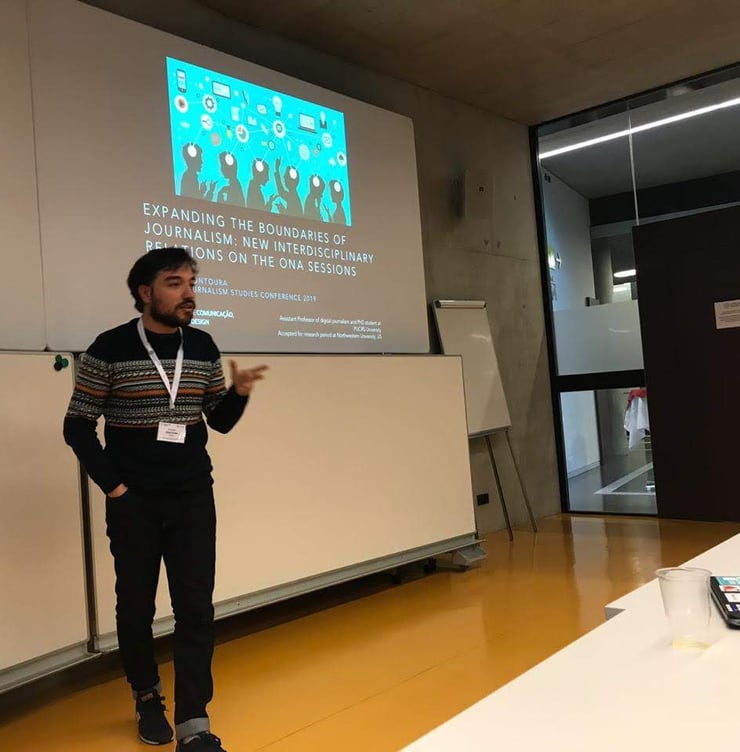 Research & Teaching
I have taught both at undegraduate and graduate level, in Portuguese and English. My main topics are Data Journalism, Disinformation and Digital Media.
My main research question is how journalism finds new meanings online. I have done that through participant observations, questionnaires and content analysis.
I believe research and teaching are deeply intertwined, and both should reflect and impact the world. Here you can learn more about my academic career :)
Da Fontoura, M. C. (2022). Pablo Boczkowski: For The Revision of Theories and a New Focus On Audiences. Brazilian Creative Industries Journal, 2(1), 27-41.
Da Fontoura, M. C. (2021). "Possibility Generator": A Study of Hearken As Expansion of Journalism Boundaries. Journalism Practice, 1-18.
Da Fontoura, M. C., & Lüdtke, S. (2021). Ethics and journalism in Brazil: A study of local journalism through the Brazilian News Atlas.
Da Fontoura, M. C. (2021). Fronteiras do jornalismo: a emergência dos interpioneiros a partir da consultoria Hearken. Anais: Associação Brasileira de Pesquisadores em Jornalismo. In 19º Encontro Nacional de Pesquisadores em Jornalismo. 19(1).
Pechansky, R., & Da Fontoura, M. C. (2019). Mobile First Journalism: an analysis of Circa News' mobile notifications. Revista Dígitos, (5), 153-163.
Finger, C., & Da Fontoura, M. C. (2018). Reconfiguração da mídia pública: um estudo de caso do BBC News Labs. Verso e Reverso, 32(80), 121-132.
Da Fontoura, M. C., Nunes, A. C. B., Pellanda, E. C., & Pase, A. F. (2017). Teaching mobile app creation for journalism students: a case study of android AppInventor in Brazil. Teknokultura, 14(2), 277-289.
Da Fontoura, M. C. (2015). Dados e Participação: Pensando Apps de Dados Públicos como Mídia Cidadã. Revista Mediação, 17(20), 99-118.
Da Fontoura, M. C. (2015). Desafios do jornalismo: uma análise acadêmica do relatório de inovação do The New York Times. 16(31), 187-200.
Da Fontoura, M. C. (2015). Hackeando dados abertos no Brasil: motivações e práticas. Cambiassu: Estudos em Comunicação, 15(17), 134-149.
Book Chapter
Da Fontoura, M. C; Träsel, M. R. (2015). Crowdfunding and Pluralisation: Coverage of the Participatory Website Spot.Us and the American Press. In: Crowdfunding the Future: Media Industries, Ethics, and Digital Society. Nova York: Peter Lang.
I have 7+ years of academic teaching experience. Over the years, I have taught classes on data journalism, disinformation, digital media and special narrative projects.
On graduate level, I have taught courses on Social Computing, Analytics, Mobile Media, IoT and Audience Engagement.
In my classes, I employ a combination of a hands-on approach, involving practical activities and discussion of current cases, with critical readings and analysis. I believe the best classes are updated, active and enjoyable for the students, without handing over academic depth.

In my PhD, I investigated the expansion of boundaries of Journalism: how the profession faces an incresingly diverse nature, with skills from areas such as design, tech and business.
With a scholarship from the Brazilian government, I had a research period at Northwestern University, in Chicago, where I also studies Hearken, a consultancy for audience engagement. I explored how Hearken synthetizes a new type of journalistic company and posture, giving new meanings to the form and function of journalism.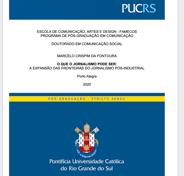 In my Master Degree, I have studied the role and agency of open data hackers in Brazil. With interviews, I have explored how these professionals dealth with the trove of data made available by the then-recent Brazilian Information Access Act.
As a result, I was able to explore the diversity of motivations, postures and results of the open data movement in the country, contributing to growing discussions on the intersection of government, hacking and citizen media.